Access
How to Access
Meishin Expressway
Approx. 20 minutes by car from [Ogaki IC], [Anpachi Smart IC], and [Gifuhashima Smart IC]
Tokai Ring Expressway
Approx. 20 minutes by car from [Ogaki West IC]
JR Tokaido Main Line
Approx. 10 minutes by car from [Ogaki Station],
approx. 15 minutes by bus (the platform 3 on the south exit of Ogaki Station),
and approx. 30 minutes by rapid express train between Nagoya and Ogaki
JR Tokaido Shinkansen
Approx. 20 minutes by car and approx.
40 minutes by bus from [Gifuhashima Station]
Bus timetable information
Please see "Softopia Line" and "Hashima Line" on the website below.
Meihan Kintetsu Bus Co., Ltd.
Map of Softopia Japan and its surroundings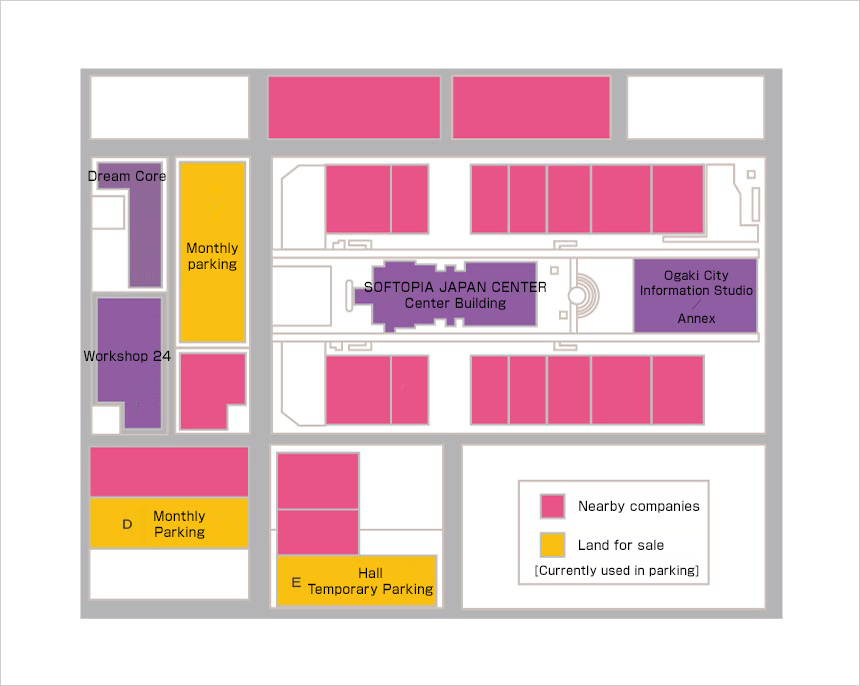 Visitors to Sopia Hall and Seminar Hall can use Monthly Parking D and Hall Temporary Parking E.
Monthly Parking D is available only on Saturdays, Sundays, and national holidays.
Parking
Center Building Underground Parking
Softopia Japan offers visitors underground parking (charged) in the basement of Center Building.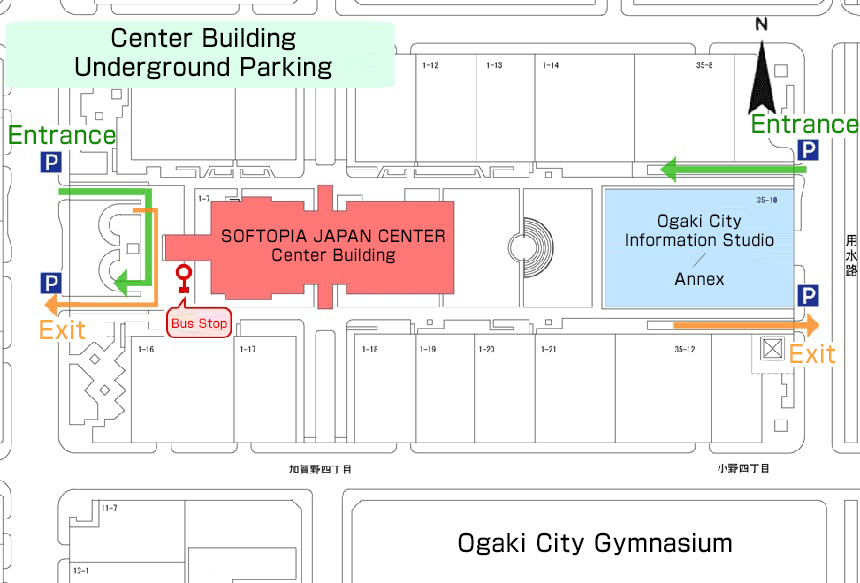 (Available) Time
8:30~21:30
Fee
Up to 20 minutes after parking a car: free of charge
More than 20 minutes and up to three hours after parking: 110 yen.
Then every 20 minutes, 110 yen is added (if the parking time is less than 30 minutes, it will be counted as 30 minutes).
More than 24 hours will be added 110 yen every 30 minutes after that.
If you use the underground parking of Center Building, please present your disability handbook at the Management Office on Center Building 2nd Floor, and if you complete the prescribed procedure, the parking fee will be free.
More than seven hours but less than 24 hours after parking: the total charge is 1,100 yen.
*Regarding temporary parking for those participating in events at Sopia Hall and Seminar Hall, please contact the event organizer.